A lunchtime talk by a little-known Hong Kong political figure has drawn global attention to China's influence on free speech in the territory.
Andy Chan is the head of a fringe nationalist party calling for Hong Kong's independence from China. over its separatist stance.
When the 27-year-old politician was invited to talk at the city's Foreign Correspondent Club (FCC), it sparked stern criticism from authorities in both China and Hong Kong, who asked for the event to be axed altogether.
But the FCC defended the talk and has pushed ahead with it – with global media attention now focused on what might otherwise have received little or no attention at all.
Ahead of the lunchtime talk, Pro-Beijing groups rallied outside the FCC's office on Tuesday morning, calling for the organisation to "get out of Hong Kong".
Why does Hong Kong care?
A former British colony, Hong Kong was returned to China in 1997. But it enjoys considerably more freedoms due to the "one country, two systems" formula, under which Beijing agreed to give the region a great deal of autonomy and to preserve its economic and social systems for 50 years.
There are widespread concerns in the city that those freedoms are gradually being eroded and the extent of China's influence over Hong Kong is a sensitive issue.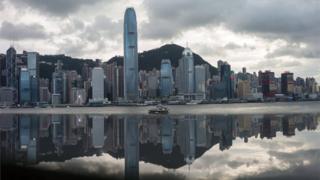 Student protests, calling for more democracy, paralysed the city for several weeks in 2014. Several of the protest leaders were convicted and even faced jail terms. Those demonstrations, however, were merely about a more democratic election process – nowhere near as contentious as the issue of independence.
"Beijing and relevant authorities have been very clear about the 'red-line' that cannot be allowed anywhere in the public sphere," explains Mathew Wong of Hong Kong University. "Andy Chan's talk at the FCC is one of them and a clear example of what they don't want to see."
Why is China so touchy about this?
China is extremely – and increasingly – sensitive about what it says are questions of national sovereignty.
The two main focal points of that sensitivity are Hong Kong and the self-ruling island of Taiwan. In Taiwan's case, Beijing's position is crystal clear: China sees Taiwan as a breakaway province that rightfully belongs to China.
In the case of Hong Kong, the situation is more blurry. Hong Kong is part of China but its special status and the liberties granted to its citizens can be seen as indirectly undermining Beijing's tough hand on the mainland.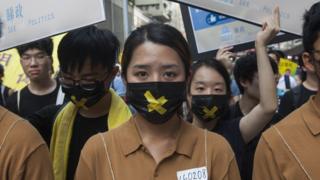 Yet when it comes to calls for Hong Kong's independence, there is in fact very little public support for advocates like Mr Chan. "Not many people genuinely think that Hong Kong can survive on its own in practice," Mr Wong says.
He adds that while some people might speak up for the freedom to discuss such ideas, they would hesitate to do so in this case, as they would risk being seen as supporting separatism.
So what have the authorities actually done?
China's ministry of foreign affairs had urged the FCC to cancel the event and Hong Kong's top official, Carrie Lam, criticised it as "regrettable and inappropriate".
The city's former leader and Ms Lam's predecessor, CY Leung, was even more blunt in his condemnation of the event. In a public Facebook post, he wrote the talk had "nothing to do with press freedom".
He addressed the FCC directly, saying that "before long you will invite advocates for Taiwan independence to speak publicly at your club".
"Following this logic, you most probably will not draw any line against criminals and terrorists. As I said, we ought to be gravely concerned."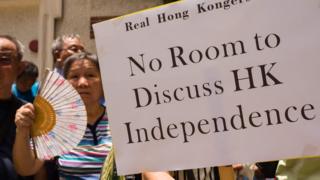 What do the FCC and Mr Chan say?
Freedom of speech and press freedom are among the key liberties that set Hong Kong apart from the mainland. So supporters of the event argue that a talk given at a press club primarily to the members of that club should not be contentious.
The FCC defended its decision to invite Mr Chan, arguing that "Hong Kong rightly prides itself on its reputation as a place where the rule of law applies and where there is freedom of speech".
"We believe that in free societies such as Hong Kong it is vitally important to allow people to speak and debate freely, even if one does not agree with their particular views."
As for Andy Chan, the attempts to ban him from speaking didn't come as a surprise, and instead bolstered his belief that "China is treating Hong Kong as a colony".
"It proves our point that it is China who is destroying Hong Kong's rights," he told the BBC. "The Hong Kong authorities acted out of obedience, the Beijing authorities out of hubris."
---
https://www.bbc.com/news/world-asia-china-45167660