In his first prime ministerial speech about Australia's place in the world, Scott Morrison lamented that foreign policy lately is too much about transactions, not enough about values. "We are more than the sum of our deals," he told the Asia Society in Sydney on Thursday. "We are better than that."
This would have led on to a banal blather of motherhood principles at any other time in Australia's history since World War Two. Australia's democratic values were the same as almost every one of its key partners. But today it is a bold and powerful statement, perhaps even a risky one.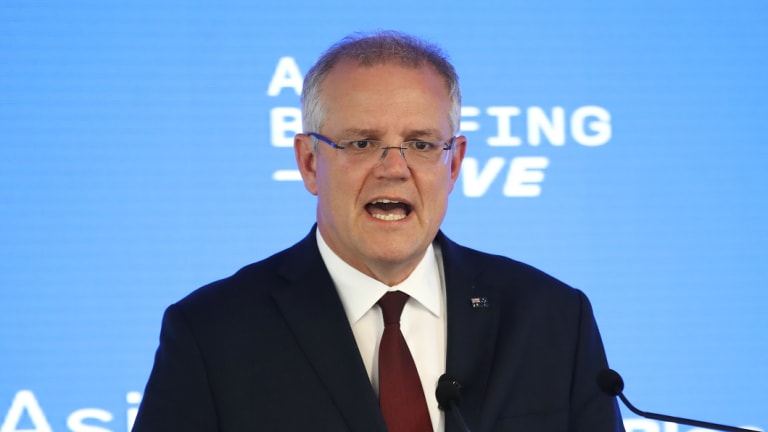 Why? Australia's future will be dominated by China, according to Hugh White, an ANU professor of strategic studies. He points to the Australian Treasury's projection that the Chinese economy will be about 80 per cent bigger than America's within a dozen years. "Everything else is detail."
And the values of China's rulers are deeply alien to Australia's. They are becoming more alien under the totalitarian instincts of Xi Jinping.
So a prominent prime ministerial statement of Australian values is no longer an opportunity for a warm moment of intimacy with the once-ruling superpower. It's now a studied challenge to the rising one.
Related Article
"So what are the beliefs that guide our interests?" Morrison posed, then went on to nominate them, grouped into seven categories. First came economic values: "We believe that the path to peace and liberty demands the pursuit of prosperity through private capital."
Surely China would agree, despite its socialist past, that private capital is central today? Not so fast. Morrison "immediately touches one of the great debates under way in China at this very moment", says a leading Sinologist, Geremie Barme.
"Under Xi, there's a definite move to strengthening the state sector over the private sector," he tells me. "It's increasingly taking back control." The shock retirement of digital darling Jack Ma, founder and chief of behemoth Alibaba, is a signal moment. Ma, 54 and with estimated fortune around $US40 billion, denies being pushed out by the government.
"Under Xi there is a great reordering of things and there are now Chinese Communist Party cells in every company, state owned or private, Chinese or foreign, operating in China," says Barme, formerly head of the ANU's Centre on China in the World. "It's really creepy. No one [in Western business] wants to admit it. It's not a secret – the Chinese are proud of it."
Second in Morrison's Australian creed: "We believe that acceptance should not be determined by race or religion. Rather, we accept people by their words and judge them by their actions." The million or so Chinese citizens in the fast-expanding network of detention centres in China's north-west province of Xinjiang might wish for such acceptance. As it is, their sole crime is that they are members of the Uighur ethnic minority, overwhelmingly Muslims. They are locked up indefinitely and without due process. Beijing says the Uighurs are receiving helpful vocational retraining.
Third: "We believe in freedom of speech, thought, association and religion," said Australia's Prime Minister. And in China? These freedoms are all protected by China's constitution, "with one caveat – in the introduction to the constitution it says you can have all of these things as long as you support the four cardinal principles", points out Barme. The most cardinal of which is that all citizens support the Chinese Communist Party unquestioningly.
Item four in the Australian creed, as set out by the Prime Minister: "We believe in peaceful liberal democracy; the rule of law; separation of powers; racial and gender equality where every citizen has choice and opportunity to follow their own paths and dreams."
This concept of separation of powers is so utterly repugnant to the one-party state that its mouthpiece, the People's Daily, said in 2013 that "implementing so-called constitutional governance in China is like trying to find fish up a tree". The party controls the courts, the press, everything. There are no checks and no balances.
Related Article
Australia's fifth belief according to Morrison: "A fair go for those who have a go." Xi's version according to Barme: "In the Chinese context, it's the China Dream, where everybody who struggles or strives will be rewarded, if not in their personal lives then in that they are contributing to the great revitalisation of the Chinese nation. It's like Hollywood gone wrong."
Next in the Aussie canon: "We believe in the limits of government – because free peoples are the best foundation to show mutual respect to all," Morrison said. In the Chinese Communist Party's canon, "it's not limited government, it's called 'complete coverage government' or 'all-encompassing government'," explains Barme, who publishes on chinaheritage.net.
The final value set out by Morrison: "We believe in standing by our mates, side by side with nations that believe the same things we do", and he listed over a dozen democracies. China was conspicuous by its absence. After his speech, Morrison was asked how Australia could strike the right balance between kowtowing to Beijing and conflict. "What's the strategy?" The prime minister recalled an answer that Australian businessman Ryan Stokes gave to a similar question years ago. Said Morrison: "And the question was, 'Is China a friend or a foe?' And he said: 'Well to me, they're a customer'."
This would be a tidy evasion except for the fact that the Chinese regime is not content to be a customer. Napoleon is supposed to have said that "China is a sleeping lion, and when she awakes, the world will shake." When Xi visited Paris in 2014 he pointedly said: "The lion has woken up."
Lions can't be placated by a diet of iron ore and coal, nor persuaded of enlightenment values. Morrison has set out Australia's core beliefs. Now he must be prepared to defend them.
Peter Hartcher is international editor.
第 2/2 頁
Maverick businessman Nathan Cuneen once touted a small empire of hair salons around the country.
Launched in Sydney in 2008, Blow Dry Bar was marketed to customers as a simple, quality service with a glass of champagne.
It was a fresh pitch for investors wanting to get into a franchise, and a concept Cuneen would eventually try overseas.
With 16 outlets around Australia, the network turned over $7.9 million in 2011-12, the Australian Financial Review reported in September 2012.
But in early 2015, Blow Dry Bar Franchising had gone into liquidation, and Cuneen was declared bankrupt.
When police caught up with him the following year, he had turned his entrepreneurial mind to peddling a different kind of blow.
Strike Force Marlborough was launched by Rose Bay police in March 2016 in an attempt to crack down on the rife cocaine trade in Sydney's eastern suburbs.
As part of the operation, they had tapped the phone of a street dealer named Christian Iral.
On May 10, Iral met with Cuneen.
Money changed hands, as did 12.53 grams of coke.
At 5.30pm, Iral arrived at the Golden Sheaf Hotel in Double Bay and on-sold the cocaine Cuneen had supplied him to an undercover police officer for $3000.
He apologised for being late: "I was waiting for my guy. He's outside waiting for me. He drove me here."
Iral left the hotel 15 minutes later, getting into the front passenger's seat of a silver Toyota Yaris waiting on the other side of New South Head Rd.
Police followed the vehicle towards the city, watching it drop Iral at a Woollahra home before continuing west along Oxford St.
At about 10pm on December 28, plain-clothes police noticed the Yaris travelling along Green Oaks Ave in Darling Point, heading towards Double Bay.
The driver was taking corners at high speed and not staying within the lane.
When they stopped him on Cooper St, Double Bay, his hands were shaking, his voice stuttered and he was mumbling.
Cuneen passed a breath test, but it was the bags of coke behind the driver's seat that sustained the police's interest.
"I'm not actually a drug dealer," he told them. "I was on my way to the place my friend is at to drop it off for him."
They also found a wad of $50 and $100 notes.
"Yeah, that's mine," Cuneen said. "I was going to give it to my mum tomorrow."
A smartphone they found on top of the cash was "a friend of a friend's", and of the five more bags of coke they found in a compartment above the steering wheel: "I honestly didn't know they were there."
He was arrested and taken to Waverley Police Station, where he told officers he'd earned the cash as a barista.
On January 11, police raided Cuneen's CBD apartment, set back from King St Wharf.
He was in bed when they came through the door, finding 8g of coke in a bowl on the kitchen bench which Cuneen described as being for "personal use".
While searching the house, they also found a number of small, resealable plastic bags for packaging the product; glucose, a substance commonly used to cut cocaine; a set of scales; and Cuneen's business card concealed in the ceiling vent of the kitchen.
They found cocaine inside items of clothing, three mobile phones, and a notebook with names and numbers.
He was arrested and taken to Day Street Police Station, where he admitted to supplying Iral with the drug on "about five" occasions over two months.
Police had clocked Cuneen throughout the previous July selling Iral a total of 31.53g of cocaine on multiple occasions, including once outside the Hemmesphere nightclub in Sydney's CBD.
Last week, the 40-year-old walked out of the Downing Centre District Court having been sentenced to an intensive corrections order for a period of two years and four months after pleading guilty to supplying a prohibited drug.
He was on the straight and narrow, his barrister Robert Webb told judge Anthony Townsden, and vowed never to touch the drug again.
Cuneen's mind was back on business, now working at a coffee house, of which he was hoping to run a franchise of his own.
"He's been a hard-working fellow ever since he left school," Dr Webb said.
https://www.smh.com.au/national/scott-morrison-has-staked-foreign-policy-on-values-beijing-abhors-20181105-p50e2a.html